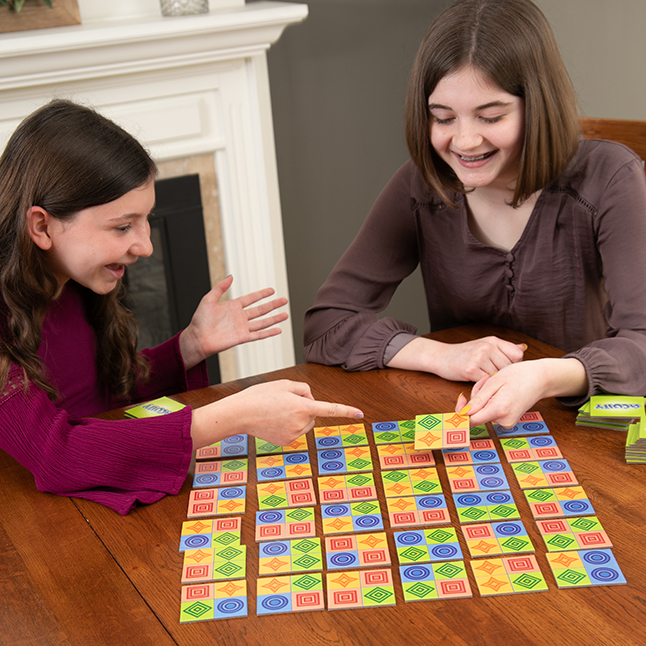 2010 Parents' Choice Award Gold Winner - highest honors!
Acuity - The New Game of Sharp Vision & Keen Thought!
Acuity is the clever matching game of quick visual perception where players race against each other to discover and match hidden patterns.
Be careful! Your mind's eye could trick you. With simple rules, Acuity is a game the entire family can play together. No reading required... simply the ability to flip, turn and match!
Players race against each other or work together against the clock to find the patterns hidden in the grid. Each time a tile is turned over, the pattern on that tile may be created by combining two or four of the tiles in the playing grid.
Featuring 70 durable and vibrantly mind-bending pattern tiles, Acuity wil
l delight all ages while reinforcing the importance of visual spatial skills and pattern recognition.
I thought this customer's review of interesting:
Acuity
Posted 14 days ago by Sammy Coleman


Rating:



I work in a vision clinic under the direction of a developmental optometrist. We use many different games along with other prisms or flippers to improve a patient's vision and perception. This game is an excellent perceptual exercise. I like the fact that no game is the same and every time I pick it up to do with a patient, I'm not sure what to expect from the grid or the patient. It is a great tool to teach focus and perseverance.