Hidden inside this perfectly made, solid wooden ball is a mechanism that produces one of Mozart's sweet melodies. Insert the elegantly shaped key, turn it and the chime will magically play whether the ball is rolling across the floor or standing on a table as an ornament.
Let your imagination run wild and see what crazy characters come to life when you play with the smooth, colourful shapes crafted from all natural, rubberwood. You can even use the pieces as drawing templates too.
The Montessori Reading Boards are an excellent way to explore the connection between spoken and written language. Children can start their reading practice with a parent or on their own by naming the pictures on these charming wooden cards.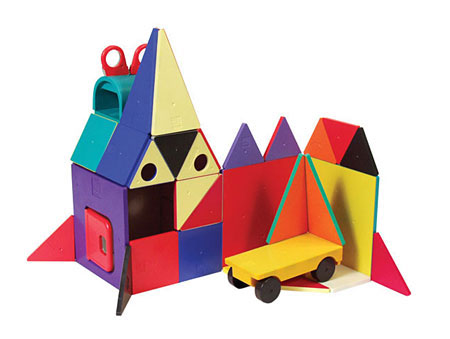 For young minds, taking flat pieces and constructing 3-D objects with them is a new and exciting discovery. Magna-Tiles attract on all sides, even when flipped around. Children explore geometric shapes, symmetry, and other basic math concepts with these colorful pieces.
Part theatre, part brainteaser, this intriguing game will test your pre-schooler's depth perception.